CaneKast™, a company revolutionizing the foundry industry, has a unique business model. They are creating a network of manufacturing facilities that combine the excellent customer service that small businesses are known for with the cutting-edge technology that scale efficiencies provide. This approach allows them to deliver quality products on time, no matter where you are in the country.
CaneKast™ partnered with Creature Works to develop CaneKast & their family of brands, online and offline marketing, promotional materials, websites, and SEO. Together, we created a strong brand identity for CaneKast™ and its associated companies.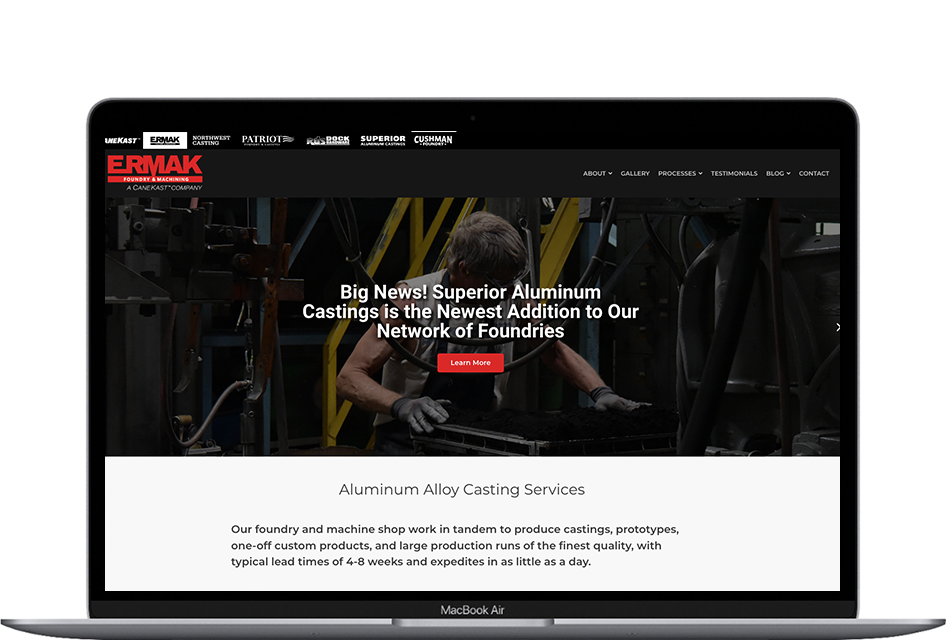 Ermak Foundry & Machining manufactures non-ferrous parts and products in a state-of-the-art foundry in Chaska, MN, and supports and serves Midwest. 
Creature Works designed the Ermak website and logo years ago and then updated the design and content of the site when Ermak came under the CaneKast family of companies. 
In addition to designing and updating the Ermak website, Creature Works played a role in developing the website's content, working closely with Ermak's team to understand its target audience, brand voice, and business objectives.
Creature Works researched Ermak's industry and competitors to create a keyword strategy to help the website rank in search engine results pages (SERPs). 
Ermak.com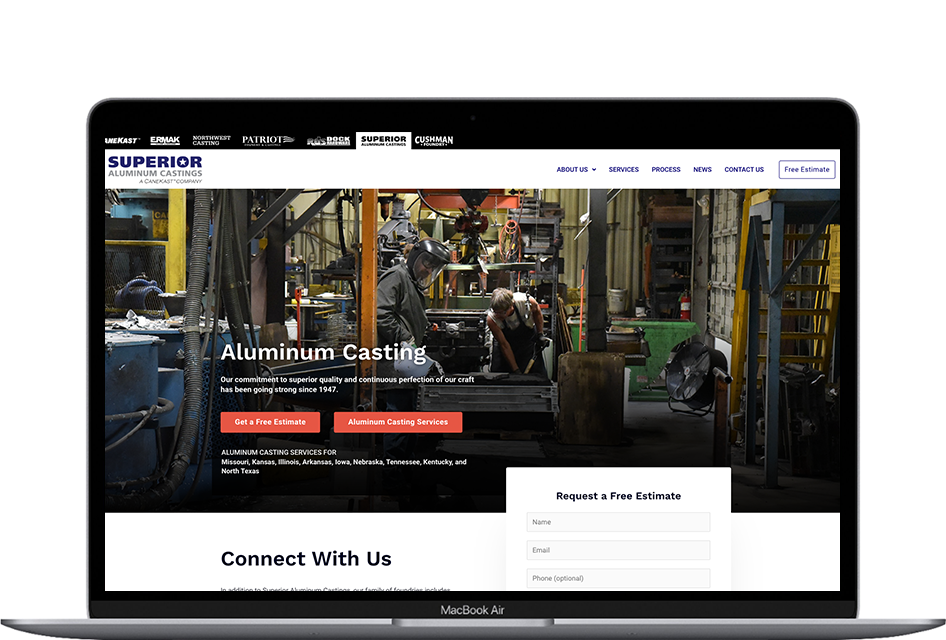 Superior Aluminum Castings  is a best-of-class aluminum foundry serving the south-central United States. They are experts in aluminum sand casting, from prototypes to large manufacturing runs. Superior provides aluminum casting services to industries throughout the central midwest and the southern United States.
Creature Works designed and developed the Superior Aluminum Castings Logo and website.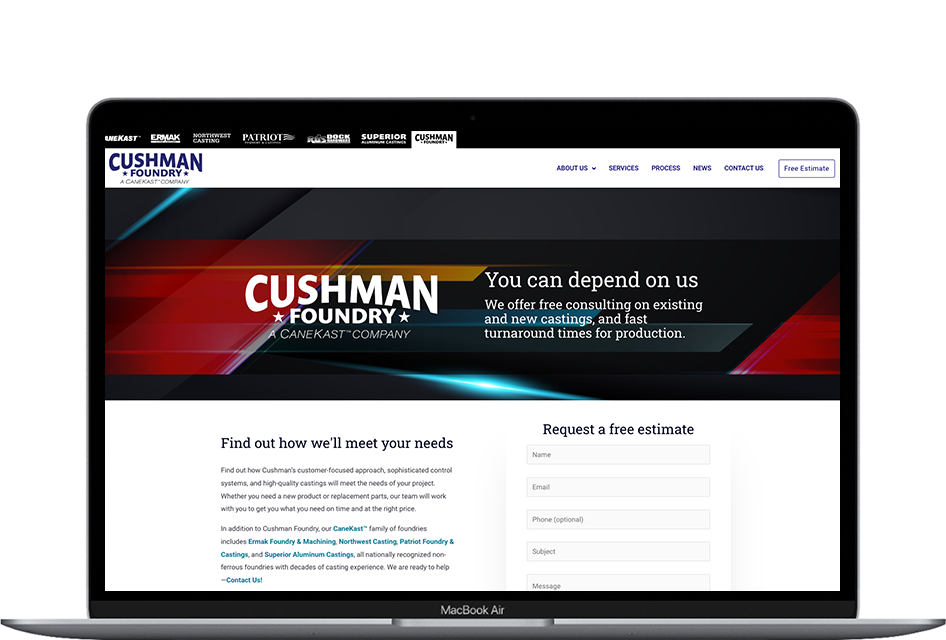 Cushman Foundry is a nationally recognized non-ferrous foundry with decades of casting experience. Cushman, experts in aluminum sand casting, serve customers in Ohio, Pennsylvania, West Virginia, Kentucky, Indiana, Michigan, and the rest of the United States and Canada. 
Creature Works designed the Cushman Foundry logo and website.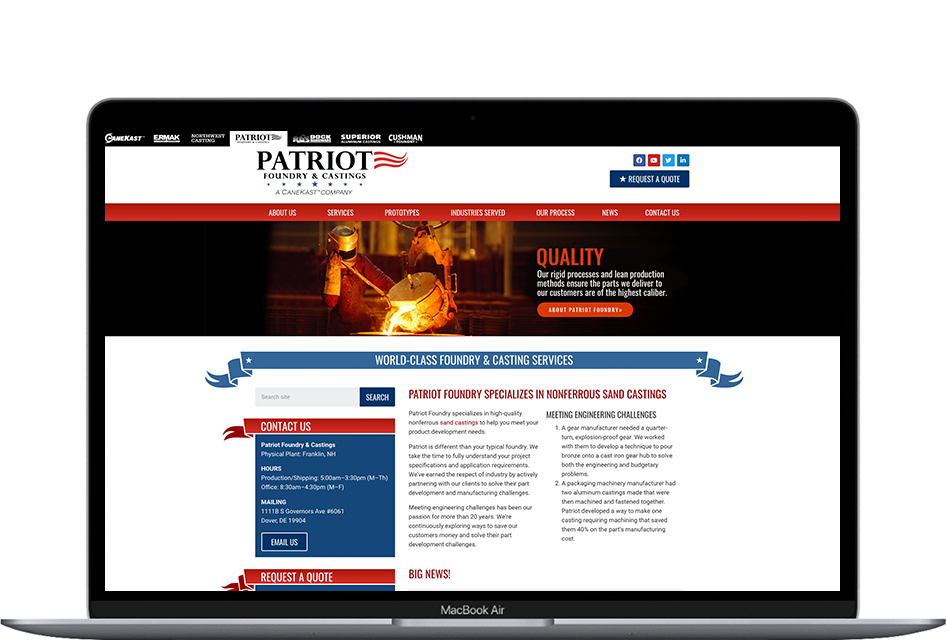 Patriot Foundry & Castings is a leading supplier of high-quality non-ferrous sand castings with expertise in bronze, aluminum, copper, and zinc-based alloy casting serving the northeast region of the United States. 
CaneKast, the new parent company of Patriot Foundry, approached Creature Works for assistance with updating the Patriot website with acquisition information. Patriot already had a strong brand and a solid foundation in place. Creature Works worked closely with the team at CaneKast to update the website's content while reusing the existing design.
Creature Works helped Patriot Foundry improve its website's performance and security, and migrated the website to a faster, more reliable hosting platform.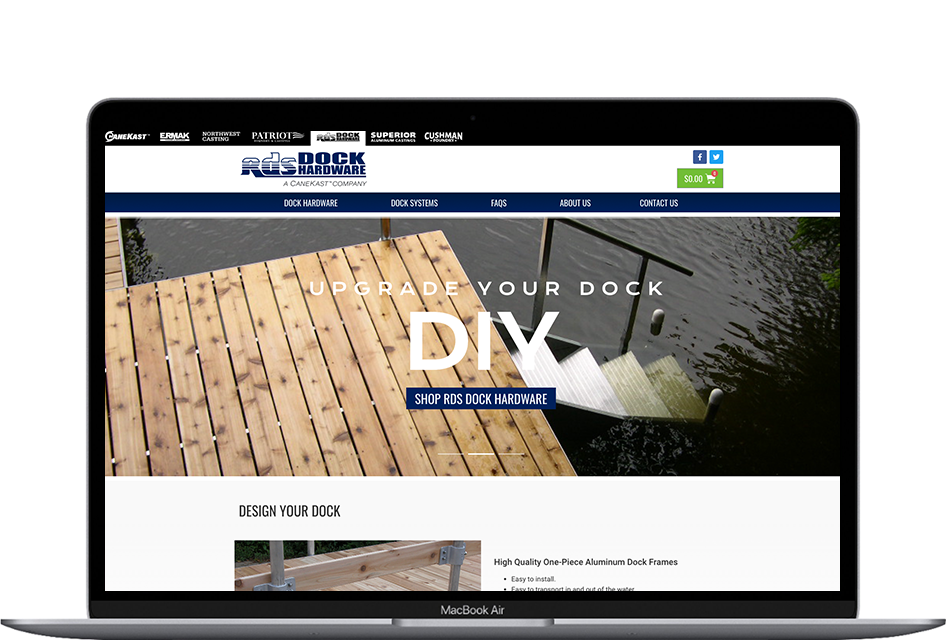 RDS Dock Hardware has been providing high-quality dock systems for over 35 years. Their product line includes a wide range of marine-grade aluminum alloy dock hardware and accessories.
To provide a better online experience for their customers, CaneKast, the parent company of RDS Dock Hardware, reached out to Creature Works for help updating the RDS website.
Creature Work added a simple but robust Dock Quote Form, which leads potential customers through the dock design/build process. This form simplifies getting a quote for a new dock, making it easier for customers to get the information they need to make an informed decision. The Dock Quote Form has streamlined the dock design/build process. 
The website uses WordPress with Woo-Commerce, providing RDS Dock with an e-commerce platform to sell its dock hardware and accessories online. Creature Works also assisted in optimizing the website for search engines.